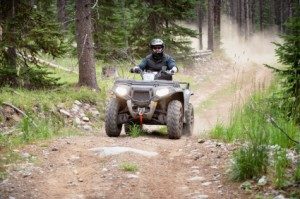 One of the most fun recreational activities, especially in West Virginia, is riding on an ATV. An ATV, or All-terrain Vehicle, is defined by the American National Standards Institute (ANSI) as a vehicle that travels on low-pressure tires, with a seat that is straddled by the operator, along with handlebars for steering control. With the beautiful hills, landscapes, and ATV trails in West Virginia, it's easy to see why people love them.
The Problem
However, nationwide there are hundreds of people who die in ATV-related accidents every year.  Hundreds of thousands of people are injured, and some of the injuries are significantly life changing.
At The Segal Law Firm, we appreciate the passion for ATV riding.  But, we are concerned about the safety of you and your family.
Simple Solutions
Here are some simple and well-recognized ATV safety steps that you can take to help be as safe as you can while riding an ATV:
Take a hands-on training course;
Wear a helmet and other protective gear;
Do not carry passengers on single-rider ATVs;
Ride off-road and on trails and not on paved roads;
Know the terrain you are riding;
Keep children younger than 16 on youth ATVs and off adult ATVs.
Have you or a loved one has suffered a serious injury or death while riding an ATV? If so, please contact The Segal Law Firm to discuss the facts and evaluate whether there are grounds for a lawsuit.